Portable
In 1976, Crushrite set up a portable concrete plant at IMC Minerals K2 for providing concrete to the storage barn. Since then, Crushrite has been involved with over 90 portable concrete projects, the majority of them being Slipform grain terminals located across Saskatchewan, Manitoba and Alberta.
The requirements of a slipform elevator are very specific. In most cases, there are three main pieces to a slipform pour: Miscellaneous concrete pours (with tunnels, and etc.), the main main foundation that requires a large amount of concrete to be poured in a short amount of period and then the slipform itself. The slipfrom requires a much more stringent specification in terms of slump, air and temperature to give consistency to the client, so they can successfully slip. We pride ourselves in being experts in the slipform process.
When considering the requirements for any client, the formula for a portable concrete plant is always a function of the following formula:
[plant mobilization and setup + trucking power + pouring days]
Total Volume of the project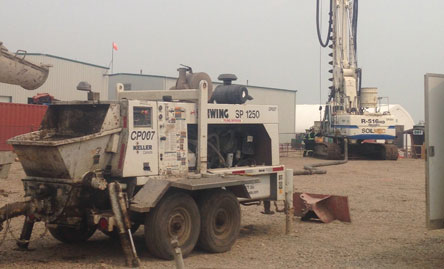 This means that if your job requires a smaller volume of concrete put requires a lot of trucking power and high mobilization costs, that the price will be high (of all other variables are equal). And if service requirements are low, and the volume is high, then the price will be less if all other variables are equal.
At Crushrite, we understand how this equation works and can offer competitive rates for portable work for your projects away from home. For any inquiries for remote location portable concrete plants or slipform projects, please give us a call.